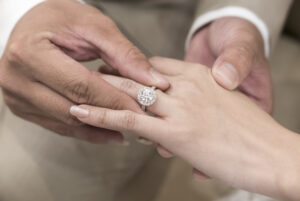 Oval diamonds can be a great alternative to traditional round diamonds, as they can offer a distinct look without having to compromise on the brilliance of your ring. By choosing oval stones for your diamond rings, you can get a wide range of advantages. The following are some of the best reasons for you to choose oval diamonds for your jewelry:
They Look Bigger
Oval diamonds have an elongated look. They have more top surface area when compared to round diamonds. Therefore, these stones are capable of creating a bigger look for your engagement ring. If you cannot afford bigger round diamonds because of their huge price, choosing a round diamond can be an ideal option, as they can help to make your jewelry look bigger without having to spend a huge amount.
They Can Make Your Finger Look Slender
The elongated shape of oval diamonds can be a great option to create a slender and elongated look for your fingers. So if you want a diamond that providesa longer look to your fingers, then oval diamonds can be a wonderful option for you.
They Are Affordable
The price of oval diamonds is significantly lower than round diamonds of the same quality parameters and weight. Therefore, you can save a huge amount on your jewelry by choosing oval diamonds instead of round diamonds. Getting oval diamonds can help you to create a bigger look for your diamond jewelry at more affordable rates. Oval lab grown diamonds can be even more affordable than natural oval diamonds.
They Are Very Brilliant
Even though the brilliance of oval diamonds is comparatively lower than round diamonds, they still offer stunning brilliance. Hence, oval diamonds can also be suitable for people who are looking for shiny diamond rings.
Oval diamonds also features brilliant cut similar to round diamonds. Hence, they can reflect light in a stunning way to create a great sparkle.
However, when getting oval diamonds, make sure to avoid stones that come with the bowtie effect. This effect might affect the brilliance and look of your stones in a negative way. Hence, it is better to avoid stones with a visible bowtie effect.
They Offer A Timeless Look
Oval diamonds can offer a traditional look to your ring, as they are the elongated version of round diamonds. Oval diamonds were popular even before centuries. Therefore, they can suit you if you want a timeless look for your engagement ring.
Hence, oval diamonds can provide a lot of benefits when compared to other diamond shapes. It can be a wonderful choice to add to your diamond jewelry.