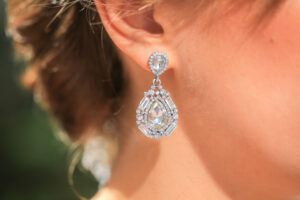 The diamond cut you choose for your engagement ring reflects your personal style, however, it's the ring setting that really says it all. Your band can appear radically different from another ring with the same diamond based on the side diamonds you select, the metal color you select, and the direction you choose to lay the center diamond. Due to the increasing popularity of emerald cut diamonds, many people these days are preferring them for their engagement rings.
In this article, we will take a look at some of the best ring settings for an emerald-cut diamond.
Pave Setting
A pave diamond ring is the answer if you want your setting to glitter a little more. This type of setting is still sophisticated and subtle, but it catches more light and draws attention to your ring than a conventional metal band.
Solitaire Setting
A solitaire setting is an ideal choice when you are picking a high-quality stone like emerald cut diamonds. When set alone on a sturdy ring, an emerald cut diamond will attract attention. A solitaire setting is ideal for the really minimalist bride or for those who would rather invest more in the center diamond than in an elaborate setting. It also maintains the stone's subtlety and refinement.
Baguette Stones
When paired with an emerald cut lab-grown diamond, these stones have become a popular option. Baguettes, like emeralds, have rectangular facets, thus this is a perfect pairing. For a charming and elegant look that is truly timeless, choose tapering baguette stones that are broader where they join the diamond than where they join the band.
Statement Prongs
Emerald diamonds have more vulnerable corners, that is one of the reasons why they are usually held in place by strong metal prongs. With white gold or platinum prongs, you can make the diamond appear even larger, or create a stylistic statement with a prong setting in bold yellow gold metal or a unique vintage design.
Bezel Setting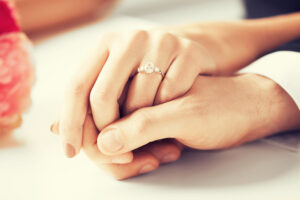 A bezel is a setting in which the stone is entirely encased in metal. Bezel settings for emerald cut diamonds can highlight the stone's elegant geometric shape, making it appear larger. Furthermore, these settings are famed for their longevity, ensuring that your stone will not be lost.
Three-Stone Setting
Setting the stone with diamonds along either side is another method to give just a touch of shine to your ring setting and make the emerald diamond sparkle. Yes, more diamonds equal more money, but instead of one large stone on each side, opt for a cluster of three little stones that make a triangle. It's entirely up to you.