The marquise cut is a common fancy cut for natural and lab-grown diamonds and they are widely used in engagement rings and other jewelry. Marquise cut add sparkle to a diamond ring, whether they're set on top of the ring setting as the center stone or as the accent stones. Marquise cut diamonds have a broad middle part that tapers on both sides to a pointed end. It's a modified brilliant cut, meaning the facets are shaped like those of a round brilliant. A marquise-cut diamond typically has 58 facets. The crown has 33, while the pavilion has 25.
If you are looking for a lab-grown engagement ring, there is no other diamond cut better than a marquise cut. Let's take a look at why.
Makes Fingers Look Slimmer
A marquise-cut draws attention to your fingers, making them look skinnier and longer. It's due to the elongated shape of the marquise cut, which stretches down the length of your finger in a manner in which most other cuts don't. This isn't a desirable trait for everyone. That is why, in most cases, you must try on the ring on your finger before actually buying it. If you want a marquise cut but don't like how it slims you down, go for a smaller version that doesn't extend as much.
Appears Bigger Than Other Cuts
Carats are used to describe the size of a diamond. A carat is a 0.2 gram unit of weight. Even if one would seem to be larger, two diamonds that both carat weights are the same size. Even if they're the same carat weight, different cuts appear bigger than others. Due to their elongated shape, marquise diamonds are said to appear bigger than any other diamond cut. The diamond appears larger than more condensed shapes due to its stretched surface area.
Cheaper Than Round Cut Diamonds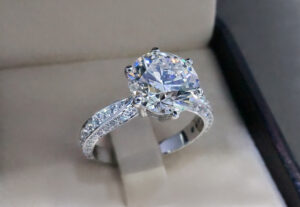 Do not buy round-cut diamonds, unless you have enough money on your budget. The average price of a round cut diamond is higher than that of a marquise cut diamond of the same color, clarity, and carat weight. When the round cut costs around $ 4,400, the marquise cut costs only $ 4,000.
Hides Inclusions Better
Inclusions can be hidden by good lighting performance. In a diamond, these flaws can appear as dark marks, white feathers, etc. Inclusions are easily visible if they're big or quite dark, and they detract from the appearance of the diamond. Inclusions that would otherwise be noticeable in lab-grown diamonds with lower brilliance can be hidden by brilliant cuts like marquise diamonds.