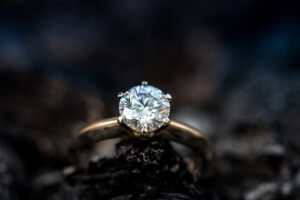 Moissanite resembles a diamond, so much so that it is still the best available diamond substitute. Almost every jeweler regards moissanite as a diamond alternative instead of a diamond replica, even if the internet is full of terms like replica. Moissanite gems are not lab grown diamonds; these are different gemstones located in meteors. Moissanite gems are also naturally occurring, but most of these stones in supply are artificial.
Natural moissanite looks almost the same as a GIA K color-graded diamond, but it is possible to correctly rate it on a stone color spectrum. Inexperienced people or non-jewelry people cannot spot diamond hue variations. Therefore, a layman cannot identify those variations between colorless diamonds and stones relatively close to those. It is especially the case when a stone has a slight yellow tint. However, you only have a slim chance to get a natural moissanite stone.
Vintage moissanite gems used to come with light orange, gray or greenish tints. Jewelers upgrade most moissanite stones available on the market to be nearly colorless or transparent. With a specific form of illumination, some distinguished jewelry experts could spot faint gray or yellowish colors in moissanite gems. However, spotting those colors is getting more and more difficult as technology evolves.
How To Differentiate Between A Diamond And Moissanite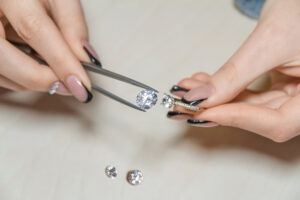 You cannot distinguish unless you come across many diamonds and moissanite gems. Pure diamonds come in a large array of hues, shapes and clear trends, so some diamonds seem to be moissanite stones apart from a professional appearance.
Moissanite grading is getting better, but it is becoming more and more challenging to tell the stone and a diamond apart. When you possess comparable diamond rings or other comparable diamond jewelry pieces, you may notice that moissanite gems have a rather distinct appearance as compared to the other stones. In what way can you tell the two stones apart for sure? The best way to do it is with specialized tools.
Diamond detectors measure how heat goes through a diamond to check whether it is genuine or not. Moissanite has thermal properties like a diamond, so those detectors are not certain to work. There are also devices that can detect physical characteristics, but those would only signify whether your stone is a diamond and cannot tell what it is. People use moissanite detectors to observe whether a stone transmits electricity to know whether it is moissanite or not.