Customers are getting more interested in diamond alternatives, with lab-grown engagement rings now being a popular choice among millennials. It is, however, hard to keep track of each category and fully comprehend the variations between them. Lab-grown diamonds and cubic zirconia are two of these choices.
Comparing lab-grown diamonds to cubic zirconia is difficult for a normal person who is not an expert in the field. Despite their similar looks, the two stones have some significant distinctions. If you're looking for a diamond or piece of jewelry but don't want to purchase a mined diamond, knowing the difference between lab diamonds and cubic zirconia is crucial. It's critical in terms of framing your objectives and planning your budget.
In this article, we will take a look at the difference between a lab-grown diamond and cubic zirconia.
Lab-Grown Diamonds
As the name suggests, lab-grown diamonds are made in a laboratory setting using specialized equipment. Since it is created artificially, a lab-grown diamond is also called a synthetic diamond. They are the exact clone of a natural diamond because both lab-grown and natural diamonds are optically, physically, and chemically identical. In addition to that, lab-grown diamonds do not cost as much as natural diamonds. That is why they are now in great demand for engagement rings.
Cubic Zirconia
Cubic zirconia is a colorless, nearly perfect type of zirconium dioxide that is manufactured artificially. Cubic zirconia is frequently used as a fake diamond due to its superficial resemblance to diamonds. The crystalline variant, which is generally known as CZ, is utilized in a variety of items, including dental implants.
Difference Between Cubic Zirconia And Lab-Grown Diamonds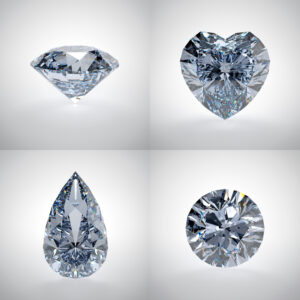 Diamonds created in a laboratory are harder than cubic zirconia. The variation in hardness between the two stones is the reason behind this. On the Mohs scale of hardness, lab diamonds are rated 10 and cubic zirconia is rated 8.5.
Cubic zirconia has a larger dispersion, which means that when exposed to light, it produces more vivid flashes than lab-grown diamonds.
Since lab-grown diamonds have identical qualities as mined diamonds, they are substantially more expensive than cubic zirconia but only slightly less expensive than mined diamonds. As a result, cubic zirconia is an excellent choice for individuals on a small budget.
Natural and manufactured diamonds are both lighter than cubic zirconia. The weight of each stone can be used to distinguish them, with cubic zirconia being significantly heavier.