Dainty engagement rings are ideal for those who prefer to keep things simple. They are also appropriate for brides with little, thin fingers. If you're debating whether to purchase delicate engagement rings, keep reading to learn more about them.
What Exactly Are Dainty Engagement Rings?
Dainty rings are those that are little and simple. The more basic the ring, the more delicate it is. These rings can provide the bride with a delicate look. Dainty rings often include a small solitaire diamond, but various settings such as pave rings and split shanks can also be called dainty. It may be determined by the size of the diamond and the breadth of the ring's band. If you're unsure about what makes a ring dainty, consult with your jeweler.
What You Should Know Before Purchasing A Dainty Engagement Ring?
Small diamonds and thin bands will be used in dainty engagement rings. They are often delicate and fragile. As a result, you must think carefully before purchasing a delicate engagement ring for your future bride. If your loved one engages in vigorous exercise or other activities with her hands, this ring may not be a great option for her because it can be easily broken. The narrower band of this ring makes it more prone to deforming even when only a light force is applied to it.
Engagement rings are meant to last a lifetime. As a result, it is critical to ensure that they may be worn without fear of them becoming destroyed. Even though delicate rings are popular right now, it is vital to examine your girl's lifestyle before purchasing one for her. Dainty rings are less expensive than larger diamond rings because they have simpler and thinner bands and fewer gems. Using lab-grown diamonds for your center diamond might make your tiny rings even cheaper.
Metal Selection For Dainty Engagement Rings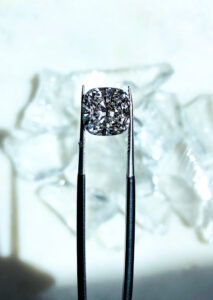 You may make your delicate ring out of any metal, including gold and platinum. However, platinum may be the ideal choice for engagement rings due to its high strength and longevity.
If your future bride does not like platinum rings, a 14k gold version can be a better option. Because 14k gold contains less gold than 18k gold, it has greater strength. When purchasing dainty engagement rings, you should not forget to inspect them frequently to see if they are damaged in any way. Also, when performing intensive hand activities, it is best to remove this ring.