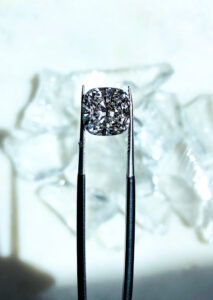 Many of us are aware of the increasing carbon footprint, and try in ways and means possible to keep it to the minimum in an effort to protect our environment. However, many of us are not aware of the environment friendly options available to us while purchasing goods, such as used furniture, recycled products and the ones made with safe practices that cause least damage to the environment. It might come as a surprise that our diamond purchases can also be environment friendly when we opt for sustainable diamonds instead of the ones freshly mined from the earth using practices that are hazardous to the surrounding ecosystem and the environment in general.
Lab Grown Diamonds
Diamonds that are synthetically manufactured in laboratory conditions are called lab grown diamonds. These diamonds are of exceptional quality and durability and are in every way comparable to natural mined stones. The absence of hazardous mining practices makes these diamonds a great choice to be used in jewellery by those who care about the environment. The absence of employing huge workforce that may be required to work in less-than-ideal conditions, makes these stones an ethical purchase as well. Making these diamonds in the lab is a comparatively faster process requiring high end technology and low manpower, making them easily available and hence affordable.
Recycled Diamonds
Beautiful diamonds that have once been part of someone's prized piece of jewellery can very well find a new home with you in your precious jewellery. Opting to have pre-used diamonds is a great way to ensure that you are reducing the impact of mining at least a few natural diamonds from the earth. Such diamonds may not need cutting or polishing, and they can just be set in a design that is suitable to their shape, making them a cost effective and environment friendly option to consider.
Pre-Owned Diamond Jewellery
Vintage jewellery pieces featuring unique stones can be a great addition to your diamond jewellery set or can be your first diamond purchase. Either way, the absence of mining, manpower involved in cutting, polishing and setting the diamond in the design etc. can make it the most sustainable and ethical buy that would cost you a fraction of the original cost of the piece of jewellery.
Sustainable diamonds are a great choice since they are better for our environment, are ethically sourced and are mostly affordable when compared to their natural counterparts. Sustainable diamond purchase enables us to contribute in our own simple way to the betterment of the nature, while saving us a lot of money!