Diamond earrings are an inevitable piece of jewelry in women's wardrobes. Even though different kinds of earrings are available, stud earrings remain one of the favorites of most women. The stud diamond earrings are popular mainly because of their simple and classic appearance.  In this article, we are discussing the steps you can take to buy lab-grown diamond earrings from any online diamond store.
About Lab-Grown Diamond Earrings
Simply saying, instead of natural diamonds, lab-grown diamonds are being used in these types of earrings. There is no practical difference in the properties between a natural and a lab-grown diamond. They offer the same optical, physical, and chemical properties, and more importantly, you can save good money if you choose a lab-grown diamond for your stud earring.
Buying A Lab-Grown Stud Earring
You can find lab-grown diamond jewelry in many diamond jewelry stores, but you may have to choose from a limited selection of jewelry. This is a major letdown as you might end up with a diamond earring that you don't like. On the other hand, if you go for trustworthy online stores, there are unlimited options and you can customize your own diamond earring. Let us look at how you can buy a lab-grown diamond earring from an online store.
Guide To Buying Lab-Created Diamond Earrings
First and foremost, find a genuine and highly rated online diamond store that has good customer reviews and good return policies.
Select Your Earring Style
Different types of earring styles are currently available. The most common are stud earrings, drop earrings, etc. You can also find very modern designs and you can choose those if you have a taste for them.
Choose Your Metal Type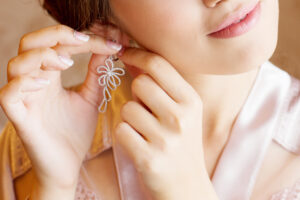 Different metals like gold, platinum, etc can be used for making your earring. If you select gold, you can have furthermore options like rose gold, white gold, or yellow gold. You can choose 14K gold or 18K gold. We suggest you select 14K gold as they are more economical and durable than 18K gold.
Select Your Diamond Specs
Before choosing your diamond, you should have an idea of the quality parameters like color, carat, clarity, carat weight, etc of a diamond. Select a diamond shape according to your preference.
Final Check
Most reputed online diamond stores offer you a 360° view of your product. Check out all the angles and confirm the purchase only if you like the jewelry.