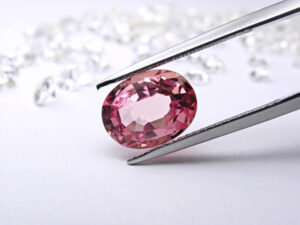 Lab grown diamonds are fast becoming a cost-effective substitute for natural mined diamonds. This new trend owes its popularity to the strength, durability and quality of lab-made diamonds, which are on par with natural diamonds, with a price almost 50% less than mined diamonds. Lab grown diamonds are also the better choice for people who prefer ethically sourced diamonds for their precious jewelry.
Lab Grown Colorless Diamonds
Lab made diamonds have the same physical and chemical structures as natural mined diamonds. They come with the same durability, strength and shine as natural diamonds, but at a considerably lesser price. The cutting and polishing methods are the same for both natural and artificial diamonds, which makes the 4Cs, the color, cut, carat and clarity of the two types of diamonds on par with each other.
Just like natural diamonds, lab grown diamonds come with inclusions and tints. The best quality colorless lab made stones will have to be selected using the same methods employed in the selection of high grade natural colorless diamonds. As with natural diamonds, the best quality colorless lab made diamonds are more expensive than the ones with inclusions.
Lab made Colored Diamonds
Lab grown diamond rings that feature a beautiful colored diamond as the center stone can be a unique piece of jewelry that fits well with the taste of the wearer. Treatments are done before and after the formation of lab made diamonds to get the desired color. When naturally sourced colored diamonds are rare and expensive, lab grown colored stones can come at a very affordable price range, especially since the treatments that are done in lab made diamonds to bring forth the desired tint are not much expensive.
Lab Made Moissanites
Moissanites are fast becoming the choice of people who go for the most affordable diamond substitutes for their bridal jewelry such as engagement and wedding rings. Moissanite is a lab made material that closely resembles the appearance of a colorless natural diamond. Moissanite studded jewelry comes at a nominal price when compared to natural diamonds or lab grown diamond studded jewelry.
Choosing colorless or colored lab-made diamonds can provide the buyer with a number of great choices in their desired jewelry designs, at reasonable prices. People can also go for bigger and rare-colored lab-grown stones at the same price as smaller natural diamonds, making the purchase more attractive and pocket friendly.